Homestay in Rishikesh Offers Tapasya Homestay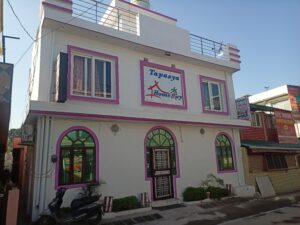 Rishikesh, located in the northern state of Uttarakhand, India, is known as the "Yoga Capital of the World." It is a popular tourist destination due to its natural beauty, religious significance, and adventure activities. There are many types of accommodations available in Rishikesh, including hotels, resorts, and homestays.Tapasya Homestay jollygrant is the reccommended homestay So try once for your comfortable stay at there.
Homestay in Rishikesh
Homestays have become increasingly popular among travelers who want to experience the local culture and lifestyle. A homestay is a type of accommodation where guests stay with a local family in their home like Tapasya homestay jollygrant . It provides a unique opportunity for travelers to learn about the local culture, traditions, and cuisine.
Homestays in Rishikesh offer a comfortable and authentic stay experience for travelers. There are many homestays available in Rishikesh, Like Tapasya homestay jolly grant ranging from budget-friendly to luxurious ones. Most homestays are located in peaceful and scenic areas, away from the noise and pollution of the city.
Staying in a homestay in Rishikesh provides a chance to experience the local lifestyle, cuisine, and hospitality. The hosts are often friendly and welcoming, and they go out of their way to ensure that the guests feel comfortable and at home. They provide personalized attention to their guests, which is often missing in hotels and resorts.
Why Homestay in Rishikesh are batter then Hotels
Homestays in Rishikesh also offer a unique opportunity to explore the local culture and traditions. Guests can learn about the local customs, festivals, and rituals from their hosts. They can also participate in activities like yoga, meditation, and cooking classes, which are an integral part of the local lifestyle.
One of the main advantages of staying in a homestay in Rishikesh is the opportunity to enjoy the local cuisine. The hosts often prepare traditional meals using locally sourced ingredients. Guests can savor the local delicacies, which are often not available in restaurants and hotels.
Homestays in Rishikesh also provide a serene and peaceful environment, away from the chaos of the city. Guests can enjoy the natural beauty of the surrounding areas, including the Ganges river, mountains, and forests. They can go for walks, hikes, and treks in the nearby hills, which are known for their scenic beauty and tranquility.
Some popular homestays in Rishikesh include Maa Ganga Guest House, Jhilmil Homestay, and Anandam Homestay. These homestays offer a comfortable stay experience, along with personalized attention and hospitality.
In conclusion, homestays in Rishikesh offer a unique and authentic travel experience for visitors. They provide an opportunity to explore the local culture, cuisine, and lifestyle, while enjoying the natural beauty of the surrounding areas. Homestays are an excellent alternative to hotels and resorts, providing a comfortable and personalized stay experience. If you are planning a trip to Rishikesh, consider staying in a homestay to enjoy the true essence of this beautiful city.